The Integrated Wellness Clinic (Novena Specialist Centre), a member of iAPPS Health Group ("iHG") 3P Medicine Company, has been appointed by Singapore's Ministry of Health ("MOH") as one of 24 private clinics to administer the Sinovac COVID-19 vaccine.
Carrie Ee, Director of Operations at Integrated Wellness Clinic at Novena Specialist Centre, said in an interview with CNA938: "We see it as an honour to be selected as one of the 24 clinics in providing the Sinovac vaccine. We see this exercise as serving the nation together."
Selected clinics by MOH are based on the clinic's ability to administer the vaccines safely, properly and efficiently. Other considerations include experience in vaccine administration, compliance history at past licensing inspections, and proposed administration fees for affordability assurance. 
Quick Facts

What it is: Inactivated virus COVID-19 vaccine developed by Chinese company, Sinovac Biotech
Approved by the World Health Organization (WHO)

: Validated for emergency use, meeting international standards for safety, efficacy and manufacturing

Vaccine efficacy by WHO

: Prevented symptomatic disease in 51% of those vaccinated, and prevented severe COVID-19 and hospitalization in 100% of studied population

WHO recommends it for

: Adults 18 years and older, in a 2-dose schedule taken 2 -4 weeks apart

Find out more here 
Interested vaccine-takers can opt for Sinovac COVID-19 vaccine at our clinic at an administrative charge of $25.
>>> Call 6250 7623 to book your appointment at the iWellness Clinic from 18 June
Sinovac COVID-19's cost have been made free by the Singapore Government and individuals are not charged for the vaccine cost, beyond administrative fees, making the vaccine readily available and affordable. 
With the COVID-19 likely to become endemic and as our society moves towards this possible "new normal", the responsibility falls on individuals in the community to abide by our nation's safe management measures such as social distancing and hand hygiene to curb the spread of COVID-19.
It is, however, important to note that while vaccinations are essential, they are not sufficient.
Beyond taking care of our health — living well — it is just as important to ensure that we are eating well, and working well. 
"Even as more of us receive the COVID-19 vaccination, we must continue to abide by the COVID-19 safe management measures, such as wearing face masks when we are out in the community, maintain hand hygiene and social distancing. In addition, we should continuously strive towards strengthening our immunity by living healthily.  This includes getting adequate rest, staying hydrated, maintaining a well balanced and nutritional diet and keeping active with regular functional exercises."

— Dr. Lam Pin Min, iHG Chairman & Former Senior Minister of State for Health
At iHG, we integrate the expertise of financial, medical and digital transformation technologies into the 3 care pillars of medical, functional and nutritional domains, to facilitate a healthy living approach that helps people stay healthy and age in comfort.
The iHG 3P Medicine Platform empowers individuals to live life more abundantly through Fin-MedTech enabled 3P (personalised, predictive, and preventive) medicine that is not only assuredly led by domain expertise, but made affordable and accessible 24/7 anytime anywhere.
July 2, 2021 Update: MOH has announced 7 more private clinics approved to administer the Sinovac COVID-19 vaccine
August 31, 2021 Update: Patients who got their Sinovac vaccinations administered at the Integrated Wellness Clinic may expect to receive their reports as follows.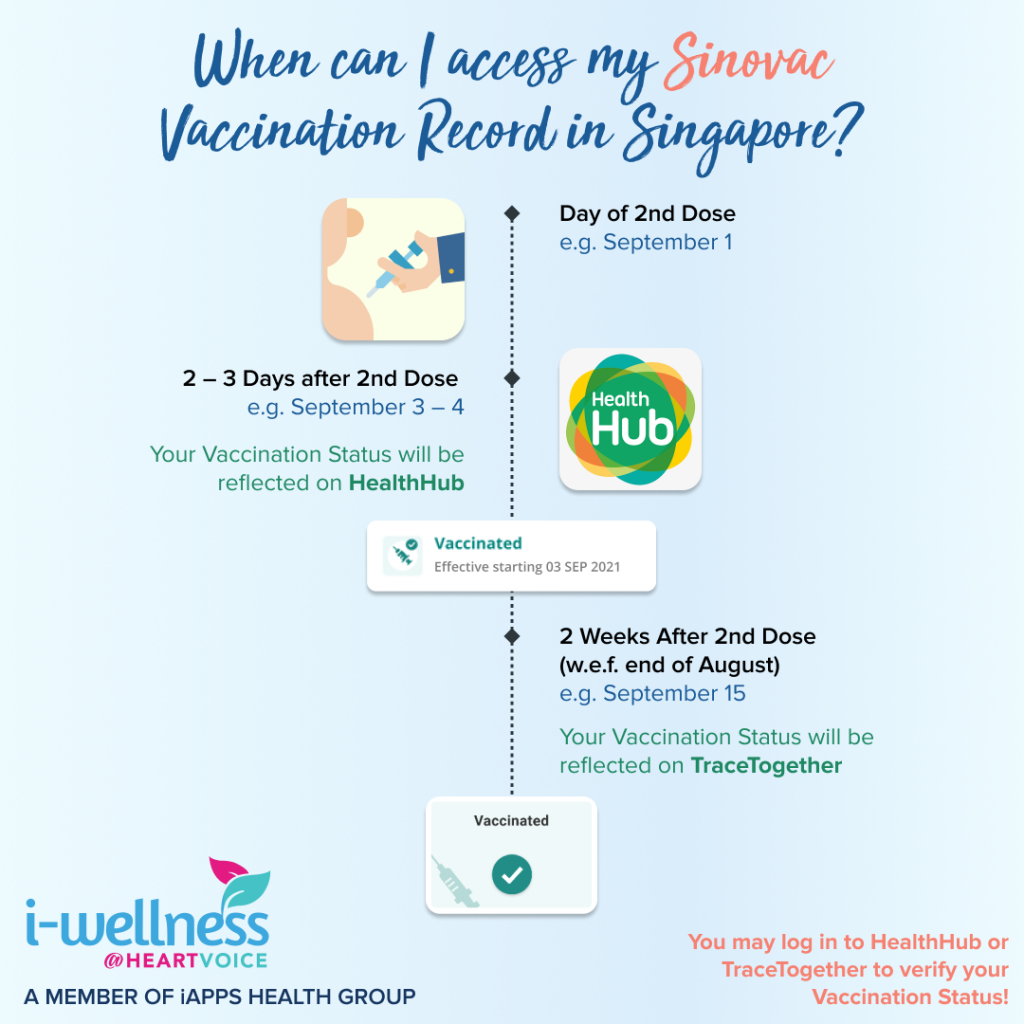 ---
About iAPPS Health Group
iAPPS Health Group is a quality-of-life centric, technology driven, Fin-MedTech company, powering a modern digital healthcare platform that offers 3P personalised, predictive and preventive medicine through digital wallet and virtual health card features, supported by data driven innovation that curates real-time positive behavioural changes and interventions. With a vision of being the leading Fin-MedTech company providing the best healthcare and wellness services in Singapore and beyond, the company's mission is to empower individuals to live life more abundantly through Fin-MedTech enabled 3P medicine.
iAPPS Health Group is a subsidiary of iAPPS Pte Ltd, a pioneering financial technology firm that specialises in mobile application development and solutioning.