We are happy to announce the joint collaboration of  Chung Hwa Medical Institution & iAPPS Health Group within [email protected] in promoting East-meet-West in medical science.
This will advance the holistic management of our patients in terms of medical science research in the Western and Chinese field of medicine.
In modern medicine, one of the best approaches is a use of combination therapy incorporating Western medicine to alleviate current symptoms and using Chinese medicine to address the root cause of the disease as well as preventing disease reoccurrence. 
Traditional Chinese Medicine (TCM), includes hot cupping, acupuncture, massage, herbal medicine and nutraceutical medicine.  TCM diagnoses through the observation of symptoms and appearances such as the eyes, skin and tongue colour as well as the pulse of the patient.  It then seeks to address the overall systemic problem as a whole with a focus on treatment and preventing any potential adverse effects from the treatment.
Western medicine includes surgery and most commonly the use of pharmaceutical drugs. 
Western medicine treats one's symptoms and target organ as isolated from the rest of the body, instead of as one whole interconnected system. In addition, Western medicine provides diagnosis through laboratory testing with a focus on eliminating symptoms whilst achieving a cure.
[email protected] is conceptualised as a town-level community avenue to meet the changing lifestyle needs of over 290,000 Bedok residents. Its mission statement is to help residents develop active, healthy, creative, learning and forward-looking lifestyles through resident and community-centric programming.
The Management Office partners co-located agencies namely, Sport Singapore, People's Association (Kampong Chai Chee Constituency Office), SingHealth Polyclinics, National Library Board and NTUC Silver Circle as well as external agencies such as Health Promotion Board to drive regular sports and wellness integrated programmes. The co-location of the various agencies within the community building generates synergy of operations and promotes creative cross-programming, with the aim of achieving wider community outreach and resident engagement, for the betterment of residents in Bedok and East Coast.
Background of Chung Hwa Medical Institution 
The Former Life of Singapore Chung Hwa Medical Institution—Establishment of the Chung Hwa Free Clinic (1952)
In view of the poor state of Singapore's post-war health care facilities, the SCPA believed that besides establishing academic TCM and promoting TCM to the masses, it was necessary to establish a TCM organisation that offered free TCM consultation, which would not only help the needy and poor and serve the community better, but also serve as a venue to study large patient groups. Hence, the SCPA, with the strong support from members of the public, set up the "Chung Hwa Free Clinic" in 1952, and started seeing its first patients on 17th March 1952. 
Singapore Chung Hwa Medical Institution has undergone 50 years of ups and downs, successes and failures, under the direction of SCPA's council members and boards of directors, the spirit of promoting and expanding TCM in Singapore was upheld. With the constant improvements made to the facilities and computer systems and improve service quality standards.
Comments from Chung Hwa Medical Institution CEO: "We are pleased to be in collaboration with IHG to further our advances of Chinese medicine into the new arena of western medicine. This will allow us to combine both western and Chinese medicine".
Background of iAPPS Health Group
iAPPS Health Group offers a  Personalised, Predictive, and Preventive Medicine through a digital wallet and virtual health card all on a single platform. This translates to empowering positive behavioural changes through  data-driven innovation that curates real-time interventions to help one  achieve a better quality-of-life. 
At iHG, we integrate financial, medical and digital transformation technologies into the 3 care pillars of medical, functional and nutritional domains.
The outcome of 3P Medicine is to provide users personalised healthcare pathways based on their health goals & genetic makeup, predicting the earliest signs of health risks when it's most reversible via Machine Learning, and preventing future health risks with Artificial Intelligence in clinical & internet of medical things (IoMT) diagnostics.
We utilise  the application  nBuddy to log one's daily meals and physical activities and monitor one's health parameters. One can also access our professional line of support, connect with health professionals, and receive essential nutritional and health advice – anytime, anywhere.
Aligning with Ministry of Health's 3 Beyonds Strategy:
‣ Beyond Healthcare to Health
‣ Beyond Hospital to Community
‣ Beyond Quality to Value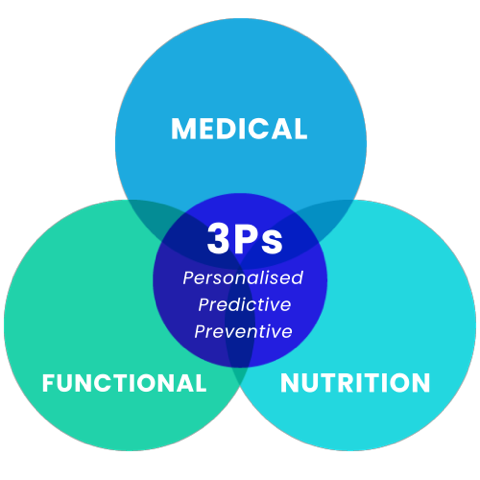 Comments from Dr Lam Pin Min:
"This collaboration brings together infinite possibilities of how a five thousand year old eastern medicine can value add to our western medicine in curing the person in a holistic way. Food is also medicine, what you eat is what you are. Therefore, with the use of nbuddy, this will help you improve your lifestyle in achieving a healthier you. We aspire to combine the ideologist of two diverse medicine disciplines in achieving the outcome of 3P medicine which is in line with our Ministry of Health's 3 beyond strategy".