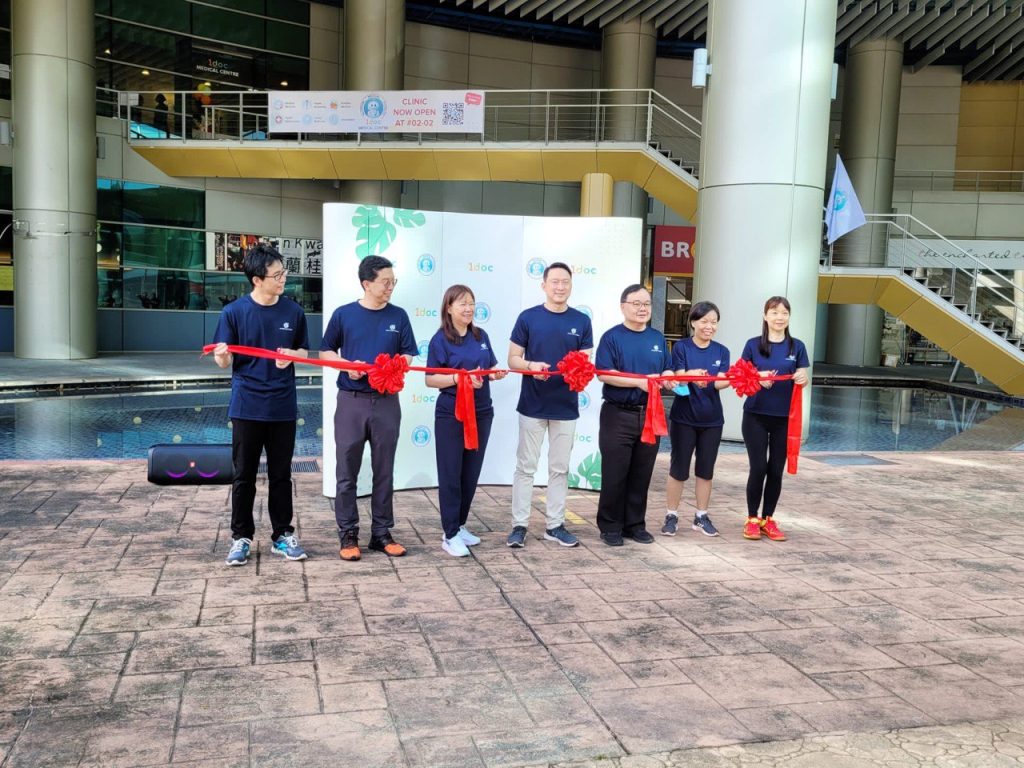 Singapore, April 24, 2022 — iAPPS Health Group ("iHG") celebrated the grand opening of its first 5G Clinic at Changi Business Park, 1doc Medical Centre on Sunday morning.
Officiated by Dr. Lam Pin Min, the grand opening was commemorated by an official ribbon cutting ceremony and witnessed by 50 guests which include Mapletree Head of Marketing Ms Chng Siok Khim, various stakeholders, medical advisors, as well as iAPPS staff and family members.
Aligning with the iHG vision, 1doc Medical Centre aims to promote a "Healthier You" through its 3P Medicine — personalized, preventative and predictive — methodology with the 3 pillars of its HOPE program of: Medicine, Fitness and Nutrition.
The opening of the clinic also falls in line with MOH-led strategy of "Healthier SG".
As highlighted by Dr. Lam Pin Min in his opening remarks: "In iHG, we believe in working upstream in keeping oneself healthy and regular health screening to pick up diseases early so that we can prevent deterioration of the medical conditions."
"The 3 pillars of our specialty HOPE program — Medicine, Fitness and Nutrition — therefore, subscribe to the objectives of the Healthier SG strategy."
Care Pillar: Fitness
As part of the grand opening, guests embarked on a 1.5km walk and jog around Changi Business Park, clocking an average of about 2,000 steps.
"Fitness is the condition of being physically strong and healthy," said Dr. Lam on the significance of the walk. "Through this symbolic walk, we hope to cultivate healthy habits and a mindset of regular exercise.
Care Pillar: Nutrition
Upon the completion of the walk, food specially prepared by the 1doc Chef was provided to the guests — a healthier version of the well-loved local Nasi Lemak dish.
"Nutrition by definition is the process of providing or obtaining the food necessary for health and growth. Harvesting our fresh produce grown locally at Abyfarm, we are able to deliver a farm to table concept of delicious cuisines prepared by our chef under the nutritional guidance from our dietitian," said Dr. Lam.
Care Pillar: Medicine
The team of passionate physicians at 1doc Medical Centre practice with the state of the art technology and up to date evidence-based medicine in delivering efficient and effective clinical care to patients.
1doc Medical Centre, a 5G Clinic
Following the ribbon cutting ceremony, guests were brought on a tour of the clinic, led by iHG's team of physicians: Dr. Chrystal Fong, Dr. Toh Mei Ling, and Dr. Lam Wai Khin.
Guests got to experience a patient's journey with a demonstration of the 1doc app, from appointment booking to reviewing of their results. They were then briefed on the services available at 1doc Medical Centre, which include medical and dietitian services. As the clinic specializes in health screenings, guests got to learn about some of the tests and measurement options included in the health screening packages.
Finally, they were introduced to HEAL with HOPE, where HEAL refers to Healthy Eating, Active Life, and HOPE refers to the clinic's Health Optimization Program Experience. In this segment, participants were given insight on how food choices and activity levels can impact their health.
1doc Medical Centre Open House
As part of our grand opening, 1doc Medical Centre will be holding an open house on Wednesday, 11th of May. Spend your lunchtime with 1doc and find out first-hand what our clinic is all about.
As the event is held during lunchtime, food will be provided to all attendees.
Date: Wed, 11 May 2022
Time: 11:30AM – 2:00 PM
RSVP by 30 April to pre-book a slot! Lunch is provided.
Slots available for pre-booking (45 minutes):
– 11:30am to 12:15pm
– 12:15pm to 1:00pm
– 1:00pm to 1:45pm