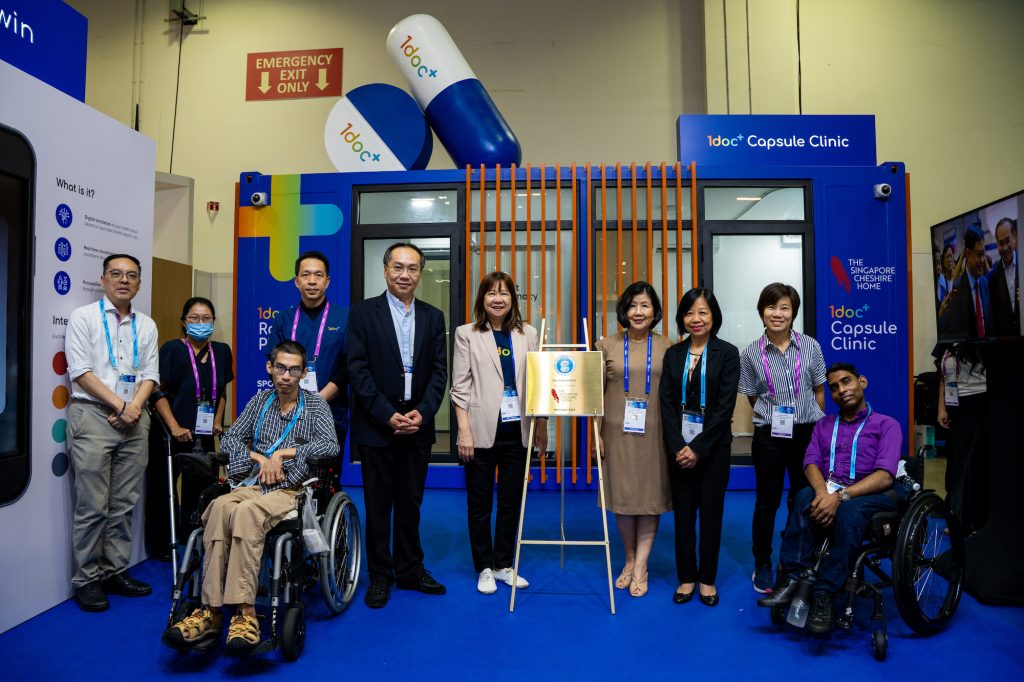 Singapore, 19 October 2023 – iAPPS Health Group (iHG), a leading Fin-MedTech company, introduced an innovative solution to transform healthcare accessibility at Asia's premier cybersecurity event, GovWare 2023 at Marina Bay Sands. 
On the second day of the event (18 October), iHG launched the 1doc Capsule Clinic. This innovative healthcare solution underpins iHG's commitment to making healthcare more accessible. The Capsule Clinic integrates technology into patient care to deliver comprehensive and personalised medical services. The Capsule Clinic is equipped with smart healthcare devices from Omron, a recognised leader in the field of automation. The Clinic provides a complete all-in-one healthcare solution, which includes a private section with a dedicated PC for medical teleconsultation and a section which features the 1doc Robot Pharmacy, their EMDM (Electronic Medicine Dispensing Machine) solution for prescription medication. 
Pending approvals from the authorities, plans are in place to install the first Capsule Clinic in the Singapore Cheshire Home (SCH), which serves nearly 100 severely disabled residents and day care clients. This Capsule HealthPost will bring medical services to the doorstep of SCH, giving convenience and saving significant time and resources that would otherwise have been required for the many trips to the hospital and polyclinic for the residents' medical appointments. This tech-enabled HealthPost will be complemented by medical consultation from an assigned general practitioner with scheduled house visits to SCH. The Capsule Clinic will certainly be a welcome solution to deliver enhanced healthcare to the underserved in our community.
iHG also launched two other tech-enabled healthcare solutions at the event. On 17 October 2023, Deputy Prime Minister Heng Swee Keat unveiled the 1doc Robot Pharmacy, Singapore's first electronic medicine dispensing machine for prescription medication. This innovation enhances prescription management, improving accuracy and efficiency. 
Senior Minister of State for National Development and Communications and Information Tan Kiat How subsequently officiated the launch of the 1doc Digital Twin. This innovative healthcare solution features a "digital twin" within the 1doc app, which offers real-time lab result visualisation and health condition mapping. The 1doc Digital Twin leverages machine learning and real-time monitoring features to provide individuals with holistic insights and personalised treatment pathways to empower them to take control of their well-being. 
iHG remains committed to advancing healthcare technology, aiming to foster a future where healthcare is accessible to all, promoting happier and healthier lives for everyone. The Group extends an open invitation to all to join in this transformative journey. 
About iAPPS Health Group:
iAPPS Health Group (iHG) is a Fin-MedTech company offering Personalised, Predictive, and Preventive Medicine through a digital wallet and digital twin, all on a single platform – 1doc. Our mission is to empower positive behavioural changes through data-driven innovation that curates real-time interventions, and our vision is to be a leading Fin-MedTech company providing the best healthcare and wellness services in Singapore and beyond.
Visit iHG's website: iappshealthgroup.com
For media inquiries, please contact:
Amy Tran, Branding & Marcomms Director – [email protected]
Iffah Durrah Kajai, Marketing Executive – [email protected]