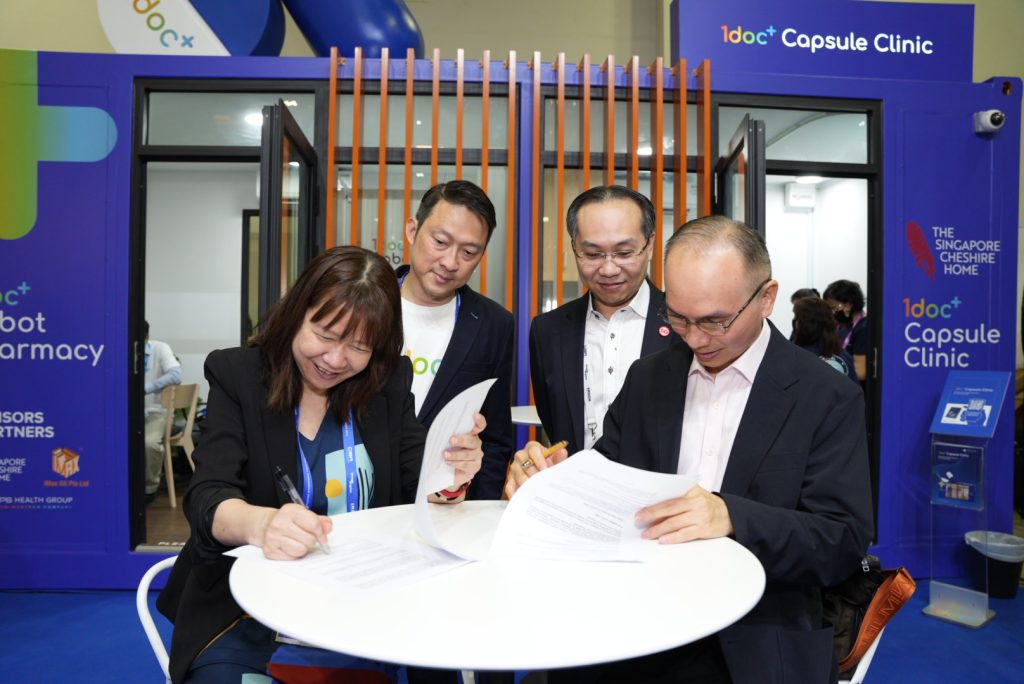 Singapore, 18 October 2023 – iAPPS Health Group (iHG), a leading Fin-MedTech Company, and Hock Leong Enterprises (HLE) are delighted to announce a partnership aimed at enhancing healthcare accessibility and innovation. The partnership was formalised with a signing ceremony between iHG Founder & CEO Lilian Koh and HLE Director Jason Ke during the prestigious GovWare event, witnessed by iHG Chairman Dr. Lam Pin Min and iHG Board Director Ivan Khua.
iHG's signature offering, the 1doc Robot Pharmacy, has taken a significant step forward with HLE becoming the third-party distributor to non-public sectors, for iHG's proprietary Electronic Medicine Dispensing Machine (EMDM) solution. The Robot Pharmacy, unveiled by Deputy Prime Minister Heng Swee Keat at GovWare, represents an innovative solution that seamlessly integrates with electronic medical record systems, ensuring unprecedented levels of accuracy and efficiency in prescription management. This innovation is set to streamline medication organisation and distribution, delivering substantial manpower savings for high-volume clinics.
In addition to the Robot Pharmacy, iHG launched its Digital Twin solution, officiated by Senior Minister of State for National Development and Communications and Information, Tan Kiat How. The Digital Twin within the 1doc app provides users with real-time lab result visualisation and health condition mapping, leveraging machine learning and real-time monitoring to offer holistic insights and personalised treatment pathways.
Furthering their commitment to accessible healthcare, iHG introduced the 1doc Capsule Clinic, equipped with state-of-the-art healthcare devices from Omron. The Capsule Clinic integrates technology into patient care, offering comprehensive and personalised medical services. Pending approvals from authorities, the first Capsule Clinic is planned for installation at the Singapore Cheshire Home (SCH), serving nearly 100 severely disabled residents and day care clients. This tech-enabled HealthPost will enhance healthcare accessibility by providing medical services at SCH's doorstep, reducing the need for time-consuming trips to the hospital and polyclinic.
iHG remains steadfast in its mission to advance healthcare technology, striving to make healthcare accessible to all and promote happier and healthier lives. The Group extends an open invitation to all to join them on this transformative journey.
During GovWare 2023, iHG welcomes attendees to explore their healthcare solutions at Booth A05 until Thursday, October 19. Visitors can book appointments with iHG representatives on the iAPPS Health Group website or stop by their booth to experience the future of healthcare firsthand.
About iAPPS Health Group:
iAPPS Health Group (iHG) is a Fin-MedTech company offering Personalised, Predictive, and Preventive Medicine through a digital wallet and digital twin, all on a single platform – 1doc. Their mission is to empower positive behavioural changes through data-driven innovation that curates real-time interventions. Their vision is to be the leading Fin-MedTech company providing the best healthcare and wellness services in Singapore and beyond.
About Hock Leong Enterprises:
Hock Leong Enterprises Pte Ltd (HLE) was established in 1974 and has been the leading distribution service centre in Singapore for nearly five decades, serving major clients in Singapore and the region. HLE brings invaluable experience in supplying and financing for clients needs, built on a reputation for service and reliability throughout the region.
For media inquiries, please contact:
Amy Tran, Branding & Marcomms Director – [email protected]
Iffah Durrah Kajai, Marketing Executive – [email protected]